Mitsui Fudosan to take part in first project in the Republic of the Philippines
PropertyAccess Team
|
Article Summary
Mitsui Fudosan to take part in first project in the Republic of the Philippines
Condominium residential housing in Quezon City, the largest administrative district in Metropolitan Manila, capital of the Republic of the Philippines
Expanding business developments in Southeast Asia
July 24, 2017
Mitsui Fudosan Co., Ltd.
Mitsui Fudosan Residential Co., Ltd.
Expanding Business Developments in Southeast Asia
Decision to Participate in First Condominium Project in the Philippines (Total of approx. 1,700 units)
Mitsui Fudosan Co., Ltd., a leading global real estate company headquartered in Tokyo, Mitsui Fudosan Residential Co., Ltd. and Mitsui Fudosan (Asia) Pte. Ltd. (headquartered in Singapore), in which both companies jointly invest, announced that they concluded a joint business agreement with collaborating company, Rockwell Land Corporation (Rockwell Land) and decided to participate in The Arton residential housing project (1,706 total units) in Quezon City, the largest administrative district of Metropolitan Manila, the capital of the Republic of the Philippines.
The project will be a large-scale multi-use integrated projected with the residential property comprising three buildings and containing 1,706 units in total and an adjacent retail facility operated by Rockwell Land located adjacent on an expansive site of approx. 1.8 ha. The planned site is located adjacent to the three famous universities of the University of the Philippines, Diliman, Ateneo de Manila University and Miriam College. Hospitals and advanced research organizations are located nearby and the area has strong prospects with residential land demand rising. In addition to planning with abundant greenery in mind, exemplified by ensuring an open space ratio of approx. 80%, the common-use area includes such facilities as a pool, gym and indoor exercise area, while the hilltop site presents outstanding views.
This project is the Mitsui Fudosan Group's first in the Republic of the Philippines. Of the total project cost of 8.6 billion Philippine pesos (approx. ¥19.5 billion at an exchange rate of ¥2.25/peso), the Mitsui Fudosan Group has a 20% share. The Philippines is forecast to have the highest stable economic growth among ASEAN member countries (6.8% GDP growth in 2016), and the residential housing market has strong prospects with growth expected over the medium- to long-term. Mitsui Fudosan will take part in the project while aiming to capture further business opportunities in the Philippines going forward.
Rockwell Land is the publicly listed real estate arm of the Lopez Group of Companies, one of the largest business conglomerates in the Philippines. The Mitsui Fudosan Group will maximize leveraging of the housing development know-how it has cultivated in the business in Japan and overseas and work together with Rockwell Land to advance the development project.
Mitsui Fudosan Group has positioned the overseas business as one of its growth areas and in Southeast Asia is currently moving ahead on residential housing projects in Thailand, Singapore, Malaysia and Indonesia. Looking ahead, the Company will expand business further in Southeast Asia with Mitsui Outlet Park KLIA SEPANG, a retail facility in Malaysia, having opened in 2015 and construction starting last month on Mitsui Shopping Park LaLaport Kuala Lumpur (tentative name) ahead of an opening planned for 2021.
The Arton (Perspective drawing of the completed building)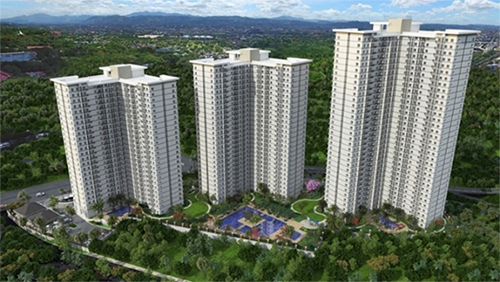 The signing ceremony on July 14, 2017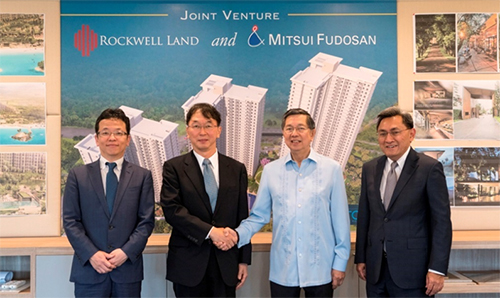 Plan Overview (Planned)
The Arton
Address

Loyola Heights, Quezon City, Metropolitan Manila, Republic of the Philippines

Access

3 minutes' walk from Katipunan LRT Station

Site area

17,571 m2

Total floor space

114,314 m2

Number of units

Total 1,706 units (total for three buildings)

Scale

24 floors, 28 floors, 34 floors

Schedule (Planned)

July 2017 Start sales
August 2018 Start construction
August 2025 Complete construction

* Rockwell Land
Established in 1995 and listed on the Philippine Stock Exchange in 2012.
Strengths are in creating high added-value in residential, commercial and office facilities in large-scale multi-use developments such as its Rockwell Center flagship project, and brand power in the upper-middle to luxury range.
Market capitalization of approx. 24.6 billion yen (as of July 2017) and revenues of approx. 28.6 billion yen (as of fiscal 2016).
| | |
| --- | --- |
| Map | Building Chart |
Mitsui Fudosan Group's projects in Southeast Asia
1.List of Mitsui Fudosan's current residential housing projects in Southeast Asia (excluding projects where all residences have already been sold))
| | | | | |
| --- | --- | --- | --- | --- |
| Project Area | Property Name | Start Construction | (Expected) Completion | Collaborating Company |
| Bangkok, Thailand | Ideo Q Chula-Samyan | 2014 | 2016 | Ananda Development Public Company Limited |
| Bangkok, Thailand | Ashton Asoke | 2015 | 2017 | Ananda Development Public Company Limited |
| Bangkok, Thailand | Ideo Q Siam-Ratchathewi | 2015 | 2017 | Ananda Development Public Company Limited |
| Bangkok, Thailand | Ashton Chula-Silom | 2015 | 2018 | Ananda Development Public Company Limited |
| Bangkok, Thailand | Q Chidlom-Phetchaburi | 2016 | 2017 | Ananda Development Public Company Limited |
| Bangkok, Thailand | Ideo Mobi Bangsue Grand Interchange | 2016 | 2017 | Ananda Development Public Company Limited |
| Bangkok, Thailand | Ideo Thaphra Interchange | 2016 | 2017 | Ananda Development Public Company Limited |
| Bangkok, Thailand | Ideo O2 | 2016 | 2018 | Ananda Development Public Company Limited |
| Bangkok, Thailand | Ashton Silom | 2016 | 2018 | Ananda Development Public Company Limited |
| Bangkok, Thailand | Ideo Mobi Asoke | 2016 | 2018 | Ananda Development Public Company Limited |
| Bangkok, Thailand | Ideo Sukhumvit 93 | 2017 | 2018 | Ananda Development Public Company Limited |
| Bangkok, Thailand | Ideo Mobi Sukhumvit 66 | 2017 | 2018 | Ananda Development Public Company Limited |
| Bangkok, Thailand | Ideo Phaholyothin Chatuchak | 2017 | 2019 | Ananda Development Public Company Limited |
| Singapore | Nathan Suites | 2010 | 2014 | Hong Leong Group |
| Singapore | The Brownstone | 2015 | 2017 | Hong Leong Group |
| Singapore | The Criterion | 2015 | 2018 | Hong Leong Group |
| Singapore | Forest Woods | 2016 | 2019 | Hong Leong Group |
| Kuala Lumpur, Malaysia | THE MEWS | 2014 | 2017 | Eastern & Oriental Berhad |
| Petaling Jaya, Malaysia | GEO RESIDENCES | 2014 | 2017 | Sunway Berhad |
| Kuala Lumpur, Malaysia | Conlay Place | 2017 | 2020 | Eastern & Oriental Berhad |
| Jakarta, Indonesia | Citra Lake Suites | 2016 | 2018 | PT. Ciputra Residence |
| Tangerang, Indonesia | The CitraRaya subdivision in the Ecopolis Block | 2013 | 2024 | PT. Ciputra Residence |
2.Mitsui Fudosan Retail Facilities in Southeast Asia
Country

Property

Opening year

Number of stores (approx.)

Store floor space (approx.)

Malaysia

Mitsui Outlet Park KLIA SEPANG

[Phase 1] 2015

130

24,000 m2

[Phase 2] 2018 (planned)

60

9,900 m2

[Phase 3] 2021 (planned)

60

10,100 m2

Mitsui Shopping Park LaLaport Kuala Lumpur (tentative name)

2021 (planned)

300

82,600 m2

3.Mitsui Fudosan Group projects underway in Singapore
In Singapore, Mitsui Fudosan has been engaged in the housing sales business and hotel business for more than 40 years, through TID Pte. Ltd., a joint-venture company that we established together with the Hong Leong Group, a local business conglomerate.
(Number of condominiums supplied: 9,962)